Brief Introduction:
Powder production online particle size monitor system is a necessary installation which improve product quality, reduce power consumption, increase production and improve the production automatic level.

This product uses the MIE scattering theory, could real-time monitor particle size distribution of flow materials , and provides a variety of data granularity for customers, it is a reliable assistant for energy conservation.
Main Features:
1. Strong representation of sample, consistent with the actual product
2. Measure particle size distribution data in real time
3. Long-distance transmission of test data
4. Safe, continuous and automatic running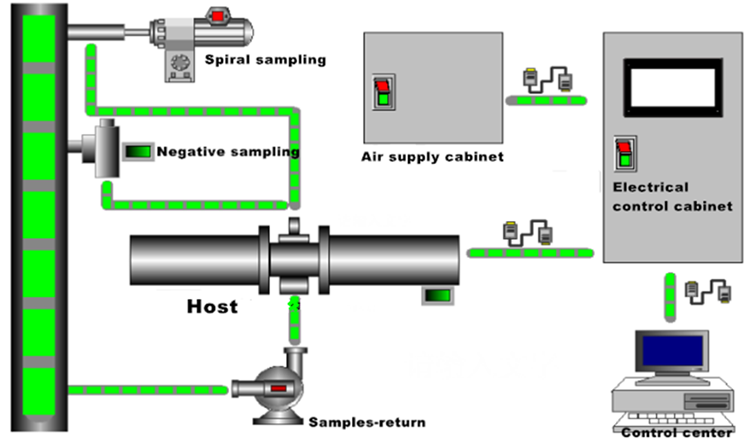 Description Of Main Components:
1. Main Host:
| | |
| --- | --- |
| Size range | 0.1μm-100μm( adjustable) |
| Detectors channels | 40 pcs. |
| Repeatability | <3%(reference to D50 value of national standard sample) |
| Accuracy | <3%(reference to D50 value of national standard sample) |
| Light source | semiconductor laser, λ= 532nm p>2mW |
2. Sampler
Special dust sampler, using same speed- sampling, Good sample representativeness
3. Air protection system
Lens protection system adopt patent technology, ensure host stable and reliable work in a variety of environments.
4. Air purification system: Class 2 filtration, Class 1 drying.
5. Electrical control cabinet, for automatic control and data processing of the field testing, with remote communication interface, via fiber optic cable to the central control room for data exchange.
1) With integrated industrial computer for data collection, processing, and real-time display online particle size distribution.
2) Special remote data communication system, to ensure stable data transmission in the case of long-distance and electromagnetic interference.
3) PLC control:Each device can be stably controlled sequentially start and turn off, and the particle size distribution data can be received and converted into 4-20mA standard signal output, capable of interfacing with other third-party PLC for control of the production equipment.
4) Provide a alarm device, If device has any problems, there is automatically alarm and automatically take protective measures.
6. Software,which is designed for in-line particle monitoring system, Simple operation interface, stable and safe running. It has the following features:
1) High-speed data acquisition
2) Scattering data inversion calculation
3) Data statistics, processing, display and record
4) Automatic control and self-test system
5) Remote and two-way transmission of data
6) Standard control signals
7) Convenient and customized data-output
Our Some Customers:
In 1989, China National Scientific Project- Cement in-line particle size monitor system for Shandong Cement Experimental Plant.
In 1998, Shanghai City Scientific Project-Jet mill in-line particle size monitor and control system for Shanghai Chemical Plant.
In 2009, China National Engineering Physics Institute- Nanometer Metal In-line particle size monitor system.
Our advantage:
1. With Rich experience in particle size measurement, Design the most appropriate test method according to the customer samples.
2. Long-term experience with the online test, according to the customer's production line condition, choose the most appropriate sampling methods and design the most reliable sampling equipment to ensure sample representativeness, real-time and continuity.
3. With Remote-monitor and full automatic operation technology.
4. Online particle size measurement system we developed has anti-jamming capability to electromagnetic noise, dust, vibration and others, ensure stable operation in harsh conditions.