Winner100D which is professional dynamic image particle size analyzer, widely use to abrasive, oil and gas and other industries.It adopt closed large depth of field-telecentric light path and constrained flat groove sample pool to improve clarity of particles.
Main Specifications:
Model
Winner 100D


Optical Components
Optical path
Telecentric optical system design
Filed lens
Anti-distortion field lens reduce edge distortion and increase the depth of field edge
Measuring range
1-3000 micron
Optical lighting
Industrial High Brightness LED spot illuminator
Image Setting
Image components
1/3 inch CCD chips
Resolution
1920*1080
Frame rate
16 fps
Exposure time
20 microsecond
Software function
Task management system
Manage data according to task, ensure good order.
Video collection
Capture video and pictures anytime, reserve required video data
Scale Calibration
Operation by scale calibration which is associated with the actual size, so as to obtain the actual size values directly on the image.
Image batch mode
Capture and handle photos at same time without the memory restrictions, to obtain more accurate data by processing massive picture
Particles automatic processing tool set
automatic elimination of particle adhesion,noise and boundaries incomplete particles, automatically fill the hollow area with particles, automatic smooth grain boundaries, etc. 12 automatic processing tool.
Dynamic processing mode
Select this mode for dynamic flow of sample handling.
Report output
report output style and types is available, also support customized setting
Operation
Computer control


Dimension
L49*W30*H48cm


N.W.
20KG


Main Features:
1) Particle morphology analysis:
Offer Sphericity, circularity, roundness, aspect ratio, sphericity and other particle morphology professtional parameters,and also add self-developed software for for particle circularity (roundness) computation module. the analysis of the particle circularity in line with US oil and gas standards: API_RP58. And geological plates suitable for this abrasive, oil and gas and other industry standards.
2) Analyze massive particles, strong data representation:
Compared to static sampling of static image analyzer, winner 100D can measure massive particles data, the data for the representative particles has important significance.
3) Two dynamic test methods:
cycle test (the same sample in the instrument cycle test, increase the stability of the test results)
Online Test (through the installation of online sampling device, enabling online testing, access to state changes of different sampling sample period)
4) Higher Clarity:
Adopt new technology, Large depth of filed-telecentric light path and constrained flat groove sample window, effectively improve the clarity of the particle sample photos.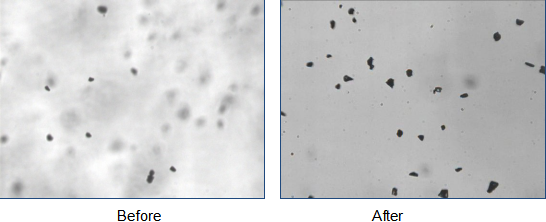 5) Auto self-cleaning micro sample pool
It's also the 1st instrument equipped with self-cleaning sample pool(National patent technology), greatly extend the life of sample pool, change frequency is greatly reduced, no need to wash in the lifetime.
Output parameters:
1)Single particle data: area equivalent diameter, perimeter equivalent diameter, Martin diameter, perimeter, projected area, the particle length, grain width, surface area estimates, the volume estimates, X tangent, Y tangent, cutting diameter, ball type of aspect ratio.
2) Statistical average diameter: Xnl, Xns, Xnv, Xls, Xlv, Xsv other commonly used statistical average diameter.
3)Particle size distribution: particle size distribution chart
4)Sphericity distribution: Particle size distribution of spherical chart
5) aspect ratio distribution: Chart particle aspect ratio distribution.
6)circularity distribution: particle circularity (roundness) distribution chart
7)Distribution Type: Press the number distribution, distribution by volume, according to the area of distribution, distribution by length.
8)The equivalent diameter types: area equivalent diameter, perimeter, equivalent diameter, Martin diameter, needle-shaped particles equivalent diameter.
9) The number of statistics: If the sample tested positive for particles of the sample, obtained the number of particles in the sample.
10)Header: customized LOGO and testers and other report information.
11)The original image / thumbnail: save the picture with measuring data information, easy to publish papers.